Book Review
A look at broken Detroit, after bankruptcy and job losses
After the Great Recession of 2007, can the city be put back together?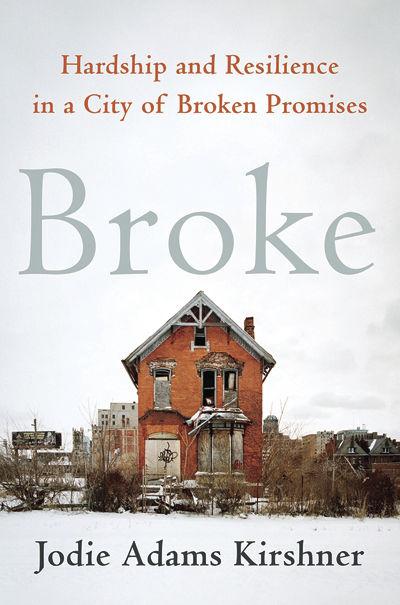 Humpty Dumpty sat on a wall.
And you know how that went for him. The Royal Soldiers and a bunch of ponies couldn't help him and you can only imagine what happened next: as in the new book "Broke: Hardship and Resilience in a City of Broken Promises" by Jodie Adams Kirshner, everything got scrambled.
In the years following the Great Recession of 2007, while everyone in America seemed to be shakily putting their financial futures in line again, the city of Detroit continued to struggle. In certain areas of the city in which a majority of the population was African-American, houses were foreclosed upon in large numbers, then abandoned by residents who were forced out. Thieves removed plumbing, copper wire, and anything else of value from uninhabited homes, and after they were gutted this way, houses were often inhabited by squatters and other displaced people, or a house fell apart, or was torched.
Swimming upstream, Detroit declared bankruptcy in 2013.
There were myriad reasons for it, says Kirshner, but in March of that year, a controversially appointed emergency manager was tasked with clearing up the situation. Things got worse: population declined; lack of jobs exacerbated the problem; tax issues caused headaches for officials and potential homeowners; and blight set in – sometimes, entire neighborhoods of it.
In well-to-do areas, she says, taxes were lower and growth resumed.
In the middle of all this, Kirshner followed seven people, to see how they fared.
Miles, a 40-something Black man, wanted nothing more than to live quietly and repair houses, but a sketchy past wouldn't go away. Charles, a 50-plus-year-old Black man, steadfastly refused to give up his house, even when it was little more than a shell. Robin, a 40-something white developer, saw big opportunity to buy up real estate.
Reggie, a mid-40s Black man, wanted a home to raise his two adopted children. Cindy, a White woman in her early sixties, tried to help her neighborhood, but failed; 50-something Joe came from New Jersey and made a difference; and college-educated single mother Lola wanted a better life for her daughter …
"Broke" is not a pleasant read for your holidays – but it's a necessary one.
It's disheartening to watch author Jodie Adams Kirshner's subjects struggle upright, only to be shoved back down again. Readers will cringe at the darned-if-you-do, darned-if-you-don't scenarios each of them face; just seeing their lives put into words might make you feel exhausted, imagining the overwhelmingness of it all. Furthermore, bureaucracy sometimes leaves no exits and that's maddening – especially when Kirshner relates what happened in better-off neighborhoods and enclaves, schools and businesses, at the same time.
And yet, this story is not sensationalized. Kirshner makes no overt villains here; the facts are laid out in plain terms that let you pick your own bad guys. There are also advice-like take-aways at the end, and usable ideas, though Detroit may be on the upswing.
Still, according to this author and this book, it's going to take awhile before things are all put together again.